It's time for yet another comparison video. Xiaomi & realme both have recently launched their latest smartphones under 30K.
realme X7 Max & Mi 11X. We'll be comparing both of them in this video & will tell you which one you should consider if you have a budget of 25-30K.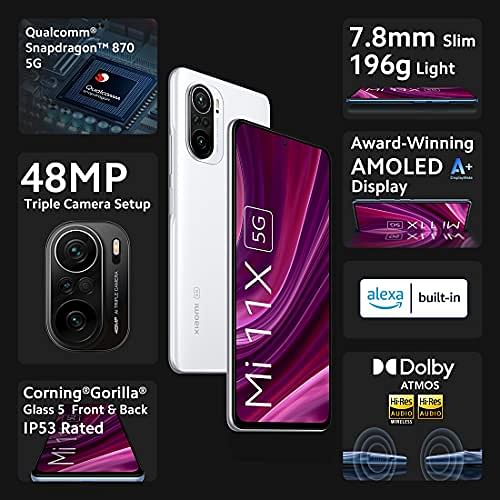 For more interesting comparison & other tech videos don't forget to subscribe & turn on notifications for latest updates.
In hand feel – Mi 11X has 6.67'' screen so it feels slightly wide but realme X7 Max has very nice in hand feel.
realme X7 Max has much better hand feel than Mi 11X.
Build Quality – Mi 11X has Gorilla Glass on both front and back panel while realme gets a polycarbonate back.
Talking about design – Mi 11X has a glossy back.
realme has a slightly different design with small Dare To Leap Branding. Overall this looks decent. Realme has polycarbonate & Mi11X has glass on the back.
As Mi11X has glass black it weighs slightly heavy & you can feel its weight when you keep it in your pocket.
Mi 11X is around 196 grams & relame X7 Max is around 177 grams. As I said realme X7 Max has better in hand feel
Display – Mi11X gets 6.67'' 120 Hz sAMOLED screen while realme X7 Max has 6.43'' 120 Hz sAMOLED, it is slightly smaller
But if we talk about ideal display size 6.4'' – 6.5'' is perfect. If you want a bigger screen then 6.67'' would be better
For me realme X7 Max has the ideal screen size.
Even though Mi 11X has sAMOLED screen, it gets a side mounted fingerprint sensor while realme X7 Max has an in display fingerprint sensor.
If we talk about colors & vibrancy both of these phones have a great display.
The base variants of both these phone are different – Mi 11X comes with 6GB/128GB = 29,999 Rs
8GB/128GB = 31,999 Rs whereas realme X7 Max base variant is 8GB/128GB at 26,999 Rs
So there is a difference of 5K between these two phones. 8GB/128GB Mi 11X = 32K & 8GB/128GB realme X7 Max = 27K
There's also a 12GB/256GB variant of realme X7 Max which is priced at 29,999 Rs. 12GB RAM & 256 GB under 30K is crazy.
Processor – relame X7 Max has Dimensity 1200 SoC which is based on a 6nm process.
Mi 11X comes with SD 870 SoC (slightly lower than SD 888)
AnTuTu Score – Both of these have similar AnTuTu scores. Mi 11X score = 660K+ & X7 Max score = 640K+
As Mi 11X has LPDDR5 RAM it scores a little higher compared to LPDDR4X on X7 Max.
Talking about real world performance, both of them perform really great. You can play games even on the highest settings.
Both of them get stereo speakers. So overall the performance is very good.
Comparing Dimensity 1200 SoC with SD 870 SoC – SD 870 is based on Cortex A77 cores clocked at 3.2 Ghz
Dimensity 1200 SoC has cortex A78 (which is the latest) but it's clocked at 3.0 Ghz. Overall both of them perform very similarly.
Dimensity 1200 SoC is more power efficient as it is based on 6nm.
(First Impressions video of both these phones given in i-card)
Connectivity – Both of them get 5G, Dual 4G VoLTE. More 5G bands are supported on the realme X7 Max. (7 – 5G bands) but Mi 11X supports only 2 5G bands.
realme X7 Max has a 3.5mm jack whereas in Mi 11X there's no 3.5mm jack.
Both of them get IP certification – realme X7 Max has IP X4 rating & Mi 11X has IP 53 rating.
Talking about sensors – All the sensors are present on both these phones. Mi 11X gets an additional IR blaster
Software – Both are running on Android 11 : MIUI 12.5 on Mi 11X & realme UI 2.0.
You do get system notifications on the Mi 11X & you will find some minor issues in MIUI on the Mi 11X.
Both of them are similar in terms of system notifications in their UI's. realme X7 Max is slightly better.
Additional features – Both of these get Widevine L1 & Cam2Api.
Battery – Mi 11X has 4520 mAh & X7 Max has 4500 mAh. Both of them are very similar.
But realme X7 Max has 50W fast charging compared to 33W on the Mi11X.
So I'll say, overall realme X7 Max has a slight upper hand in terms of battery.
Haptics of both these phones are also similar.
Camera – realme X7 has 64MP IMX 682 + 8MP ultrawide + 2 MP macro triple macro setup
On Mi11 X – you get 48 MP IMX 582 + 8MP ultrawide + 5MP macro. If macro is very important for you then Mi 11X has a better macro camera.
But looking at other things – The Sony IMX 682 performs better on the realme X7 & also has better dynamic range.
Overall in cameras – except macro camera on Mi 11X, the realme X7 Max wins in terms of cameras.
Low light photos on Mi 11X come out much brighter than realme X7 Max but it lacks details.
Whereas photos on realme X7 Max – you'll notice the details, so both of them have different approaches for low light imaging.
Selfie Camera – Mi 11X has 20 MP & realme X7 Max has 16 MP. Both of them have good selfie cameras.
Video – Both of them support 4K video recording but Mi 11X can only record 4K @ 30 fps while realme X7 Max does 4K @ 60 fps.
My final thoughts – It's generally very difficult to pick one as a winner because it also depends on your requirement
But in this comparison, without any doubt I'll say realme X7 Max is the winner.
First reason is there's a difference of 5K Rs between them. At 27K you get 8GB/128GB realme X7 Max & At 30K you get its 12GB/256GB variant.
Whereas Mi 11X At 30K has only 6GB/128GB. So this makes a big difference & a huge positive for X7 Max
In performance wise both of them are equal. Mi 11X has a better macro camera but realme X7 Max has an overall better camera system.
Battery wise realme X7 Max is better because of 50W charging.
Multimedia is very similar on both these phones. If you a big screen then you can look at Mi 11X
But 6.43'' is an ideal screen size on X7 Max. (Mi 11 X is also slightly heavier.)
So looking at everything I'll say realme X7 Max is the winner.
What do you think ? Do let us know in the comments below if you think I'm wrong & if you believe Mi 11X should be the winner.